A Short History of Slavery in Pictures
Im showing the following series of images in an attempt to show you that this is not a game.....this image shows the price of failure. I hope these pics disturb you, i hope you never forget them, as this Ancestor hopes that we dont forget him! Did he suffer this so we can shoot each other down in the street? PNF opens its archives for yall to see....what happened to us here in the west. Htp to those Glorious Ancestors, we salute you!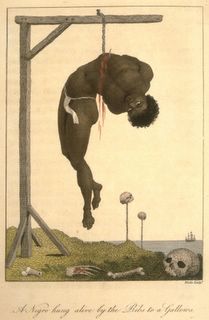 Surinam, 1772. Caption reads: " A Negro hung by the Ribs on the Gallows". Notice the heads on pikes in the background!